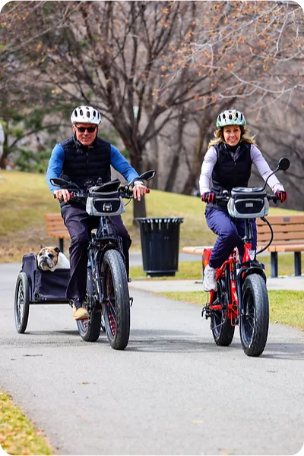 RIVERSIDE E-RIDE HISTORY
Riverside E-Ride was founded and established in August 2019 by my husband and myself, Gary and Dana Holland. In February of 2018, Gary and I found ourselves each a single parent in our 50s. Gary had been a self-employed business owner for the past 22 years and I had been working as an RN for over 30 years. One the things that drew Gar and I toward each other was that we both agreed family is always first. We also shared a love of the outdoors, fitness and a healthy lifestyle, spending much of our time traveling in the motorhome, camping, hiking and enjoying plenty of family time together.
Spring of 2018, Gary purchased two Royal Flat Fold iGO Bikes, That Spring and Summer we rode the bikes all over the Shuswap, Jasper, Valemont, Sun Peaks and every trail we could find in the Kamloops area. We were so impressed with these bikes as they never seemed to break down. They could be folded up and put into the back of a hatchback. So easy to ride and so much fun. Being in our 50s, we discovered a whole new excitement of riding a bike. We had always been fit and enjoyed outdoor activities, but with age, some of these activities can become less easy or fun to do. Gary had a brilliant idea. Why don't we purchase 10 of the Royal Flat Fold iGO bikes and rent them out? We could start a business. So that is what we did. We also were very aware that so many other people would love these bikes just as much as we did. So instead of just renting bikes, we decided we should open up a store, where we rent, sell and service electric bikes. Gary spent the next few months contacting iGO head office and managed to secure ourselves to be the main distributor for iGO in the Kamloops area, which set the wheels in motion for us to become e-bike store business owners.
Spring of 2020 we opened our store front, Riverside E-Ride Inc. at 150 West Victoria St. Within the first couple of months we were selling out of iGOs and having customers give deposits for pre-sales of e-bikes. Over our first year we continued to build our business, adding more bike brands to our inventory as well as supplying our customers with top brand bike accessories. We found that many customers would send their friends over to us as they really enjoyed the warm, friendly customer service.
Summer of 2021, we spent weekends camping at the KOA in Clearwater, where we rented our e-bikes from that location. We spent every weekend there enjoying riding up to the falls and were amazed how easy it was to ride all the way up with our dog, Memphis, in the dog trailer, which was quick and easy to attach to the e-bike. We had so much fun exploring the Clearwater area and found so many people were interested in learning about the the e-bikes. Clearwater KOA would like us to make e-bikes available for rent there every Summer.
ABOUT THE OWNERS
Gary was born and raised in Kamloops. Gary has had a successful landscaping/snow removal business for 23 years in Kamloops prior to us opening Riverside E-Ride. I grew up in Merritt and attended the Cariboo College RN program in Kamloops (1985-1988). Working in the Lower Mainland for several years, I returned to Kamloops in July 2010 working in the healthcare system until early retirement in February 2021.
THE BENEFITS OF E-BIKES

Having worked in healthcare my entire adult life thus far, the most significant impact on me is how important it is to stay fit and active. So many people are living less than optimal lives due to immobility, and sedentary lifestyles. The more immobile and less mentally stimulated, the more impact the effects of old age will have on someone. However, there is good news! The more active and mentally stimulated we keep ourselves, we have the ability to live into our elderly years with a fit and healthy body and mind. As regular bikes can be very difficult for elderly people or anyone who struggles with mobility or strength, it can be very daunting to ride a bike. With an electric assist bike the rider, regardless of age or fitness level, will be able to ride the bike. The "electric assists" are similar to being on a treadmill at the gym. You get exercise (and can decide how hard or easy), but the machine assists you to get there. E-bikes help you get where you want to go without being so difficult that you no longer want/can ride a regular bike. There are many more reasons to love an E-bike, but this really stood out to us. The majority of our customers have been between the age of 55-85. Seeing eyes light up on people who have not been able to ride a bike in years, is so fulfilling. Witnessing people come back with their friends who want to purchase and E-bike, because they've seen they healthy change in their friends' lives, and now they want that too, is extremely rewarding.
WE ARE FAMILY
Starting a business later in life has been exciting as we have been able to build this into a family business with my son, Matthew now working in the store as Manger/Salesman. Our younger kids; Grace and Julien, both age 15, will also start working at our store starting Summer 2022. As well, we wish for our employees to love to come to work and to feel appreciated and valued. Our employees are just as valued as our own family members. Our customers are also like family to us. We appreciate and value each one. Just as we have worked hard during our lives and raised our families, we are real people, just like our customers, who know what it takes to raise a family, and we believe that money should be spent on good quality merchandise. The same merchandise we would want to purchase ourselves.
THE RIVERSIDE E-RIDE DIFFERENCE
At Riverside E-Ride we have a motto that we live by and that is "Family owned, friendly customer service, honesty, quality merchandise, knowledgeable staff who love their jobs and feel valued, makes for a good business. Good business speaks for itself.
---